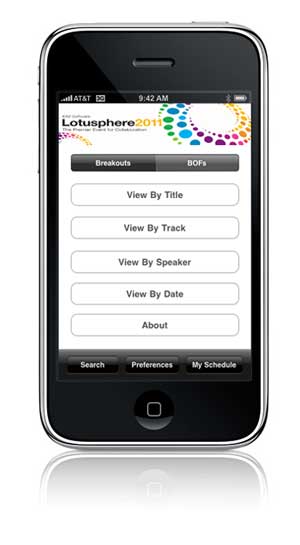 Computer Architechs created mobile agenda applications for IBM's Lotusphere 2011 Online so that registered attendees would be able to, not only, put the whole Conference Agenda into their pockets, but also they can create their Conference Schedule right on their device and sync the schedule with the Lotusphere Online servers.The session data is also synchronized with the servers, so, if any updates are made to the session data, the mobile application can automatically synchronize the changes. Furthermore, attendees can maintain their schedule on their devices and on the Lotusphere Online Session Scheduler application. Edits made to either side will automatically sync up.
The iPhone application is available on the iTunes Apps store ready for download as "Lotusphere 2011 Mobile Agenda". It will also run on the iPad and iPod devices. The Android and Blackberyry apps can be downloaded directly from the Lotusphere Online site after the registered attendee logs in.
Attendees need a Lotusphere Online six digit User ID and Password to allow the application to synchronize with the servers and to ensure that they have access to their own unique calendars on the site.
This is a huge leap forward from previous years, when only static applications were made available to attendees. For past Lotuspheres only static mobile apps for the Blackberry and Windows Mobiles were available.