While playing music in the Windows Media Player running on Windows 7 64-bit playback would suddenly pause whenever I got a chat notification from IBM Sametime. Each and every  time I had to push play to get the music going again.  Very annoying!
The problem turned out to be with a setting in Windows Control Panel that controls the behavior of the media player.  To fix the problem follow the steps below:
a) Click on Start
b) Click on Control Panel.
c) In control panel select the option" Hardware and Sound"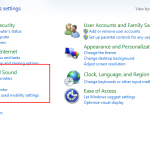 d) Now select the option "Sound"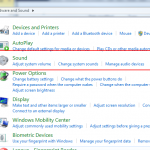 e) A new windows will appear, now click on the last tab "Communications"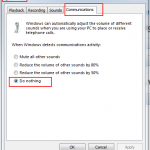 f) Change the radio button to "Do Nothing"
This will most likely affect the playback behavior for other applications such as Skype so you may be better off just downloading and using a different media player altogether and keeping the default setting as is.