Content Management Made Simple

Our primary goal with the Velocevent Event App is to provide event planners and conference organizers with a truly easy way to get the content from their registration application into our Velocevent system. Importing event data such as logos, photos, exhibitor details, sponsor details, etc… should not be a hassle. It should be as simple as getting data into a spreadsheet and uploading image files into a folder. Introducing Velocevent's content management system! With Google Drive and Google Sheet integration, data imports and content management are finally intuitive and easy to do.
How do I manage updates and edits to my content?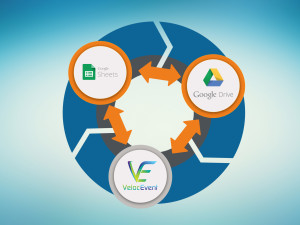 We give you two simple ways to manage your content:
1. Make updates to your Google Sheets and run the import again

Velocevent knows which content is new and which has been imported previously so rest assured that we can handle updates just as easily as we handled the initial import. If you need to change a booth number, add a new sponsor, remove an attendee, or change the photo for a speaker, no problem. We check the Google Sheets for edits, adds, and deletes and update your content accordingly when the import process is run again.
2. Use our online content editor to update your content

As the event planner you are in control of your content. Open up an exhibitor, click the Edit button and update the exhibitor's details. Once you click the Save button, the updates are immediately reflected in our system and displayed to your attendees. You can upload a new logo, change a misspelled name, update a booth number or even add or delete an attendee record. There's no limit to what you can do with our content editor.
How truly easy is our import process?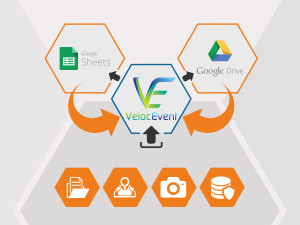 We give you, the event planner, total control of your content. Once you have setup your event for Velocevent we provide you with Google Sheet templates to import Exhibitor, Sponsor, Attendee, Speaker data and all other content relevant to your event. You need only populate the provided Google Sheet templates with exported data from your registration application. As long as the mandatory columns (fields) are filled in you're good to go. With the click of a button the data is imported right into our system. All data is validated before it is imported so you can be sure it displays properly once it is in our system. If some of your data does not pass validation we tell you specifically which data, in which row is invalid so you can simply adjust it and restart the import process. We only skip rows that have invalid data and continue to import the rest so rest assured that the majority of your content will be uploaded successfully the very first time. If you know how to manage a spreadsheet you know how to import data.
What about Photo and Logo files?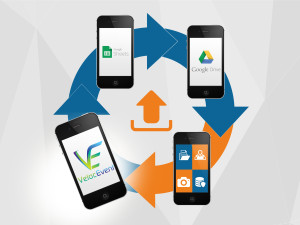 No more need to drag and drop images for each and every exhibitor, speaker and sponsor. Upload all of your image files to the designated Google Driver folder, enter the file name of each file into the Google Sheet and we take care of the rest. As we import your data, we transfer your images at the same time and add them right into our system. As long as the file names are the same as the uploaded image files, we match them up and add them into our system.