HCL (IBM/Lotus) Domino Server Installation, Configuration, Management and Support
CAI has been installing, configuring, managing and supporting HCL IBM Lotus Domino servers for over 25 years. We make sure our IT engineers are certified in the latest versions of products that we support so that as a team, we can provide you the best possible support for your Domino and Notes environment.
HCL IBM Lotus Domino Server Upgrades and Application Compatibility Testing
Are you still running version 6.5, 7, 8, 8.5 and 9 of Domino? No problem. We can assist you with any version of the product. If you need our help to migrate or upgrade to the latest version, that is also one of our specialties. No matter what version you are currently running we can upgrade you quickly and hassle free. We support all the latest versions of Domino including 10, 11 and 12.
You may be worried that the Domino applications that you use in an older version of Domino may not work after you upgrade. Don't worry! Most Domino applications are backward compatible so the upgrade process is relatively painless. However, it is always prudent to test the applications before any upgrade occurs. We will work with you to build a test environment with the latest version of Domino so that all of your applications can be fully tested beforehand. Do you think you need to rip out and replace your current Domino server hardware for the upgrade? Wrong. Time and time again legacy and older Domino applications have migrated to newer versions without any updates required.
You can focus on the software upgrade now and worry about the hardware at a later date, if that suits your budget. Also, if you are maintaining your annual HCL Software Subscription and Support, then there is no additional cost for the software to upgrade either. It is already included unless you need to add additional users or Enterprise servers.
Virtualize your HCL IBM Lotus Domino Servers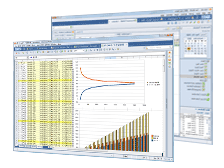 Don't forget that we can also help you virtualize your HCL Domino environment. No matter which virtual platform you use, we can assist you with consolidating your hardware and virtualizing your servers. Not only will this reduce your carbon footprint, but you can maybe even reduce your software licensing costs if you are a Domino Enterprise Server customer.
HCL IBM Lotus Domino Server Migrations
Migrating from a different mail or groupware platform to Domino? Not sure whether this is the right move for you? We specialize in determining what your options are, and analyzing your requirements so you can benefit from our many years of experience before any migration happens.
24/7 Remote Support
If you are looking for a seasoned company to support your Lotus Domino infrastructure during normal business hours or even provide you with 24/7 support, you have come to the right place. We provide packages tailored to your business to give you the best support possible at a price that you can afford.
Expert Development including Node.JS
If you are in need of development for your next HCL Domino project, look no further. Our IT engineers do not only administer Domino servers, we also are certified developers for the platform. Whether you need to transform your Domino web applications by developing with Node, maintain a current Notes application or just create a new Notes database, we have the skills and the engineers to make this happen.
Professional Local and Remote Support for HCL IBM Lotus Domino environments for all versions including 4, R5, 6, 6.5, 7, 8 , 8.5 and 9, 10, 11 and 12

Painless upgrades from previous versions of Domino to the latest version (includes testing of your Domino applications)

Virtualize your Domino servers to reduce your carbon footprint and consolidate all of your hardware

Properly planned migrations from other mail and groupware environments to HCL Domino

Reliable business hours and 24/7 supports for your HCL Domino infrastructure

Transformation of your current Domino web applications with Node.JS

Maintain and Create new HCL Notes and Domino web applications