On February 1, 2014, the American Academy of Orthopaedic Surgeons, (AAOS) released Orthopaedic Code-X 2014, successor to the 2013 version, developed by Computer Architechs International Corporation (CAI).
Code-X 2014, built on top of Adobe's cross-platform development tool, AIR, is available for the Windows PC, the Mac and can also be installed in a Windows Network environment. Building on the success of the 2013 version of Code-X, many new features were added to improve the medical coding experience for orthoapedic surgeon practices nationwide.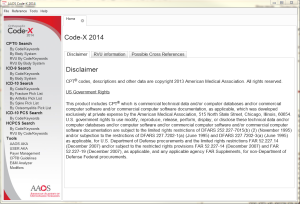 AAOS Code-X 2014 is another example of CAI's expertise in building cross-platform applications while also using the best development tool for the project. In this particular case, given AAOS' requirement to create an application that sported the same interface on both the Windows and Mac, Adobe AIR was the most appropriate tool for the job. Every project is unique requiring careful planning and design prior to the start of development. CAI's ability to work hand-in-hand with its customers to manage projects from inception to implementation is backed by years of experience and many examples of successful application roll outs. Contact us to discuss your next project.