On March 14, 2013, Computer Architechs International Corporation (CAI) released the mobile application Orthopaedic Code-X Lite 2013 (X-Lite 2013) for the American Academy of Orthopaedic Surgeons (AAOS) for the thirteenth consecutive year. The app is available for both the Apple iOS and Google Android mobile platforms.
X-Lite 2013 gives orthopaedic surgeons the ability to code on-the-go using their favorite smartphone and tablet devices. Whether physicians want to look up CPT Codes or iCD-9 Codes, X-Lite makes this possible using a very simple, intuitive interface that works very similarly on iOS and Android. Surgeons can quickly select codes to be emailed to themselves or their coding assistants immediately after performing a surgery. They can also mark specific codes they use often as "favorites" to easily find them again later. Furthermore, the CPT and ICD-9 code data is synchronized with a central server allowing physicians to simply synchronize the mobile app to update X-Lite with the latest code information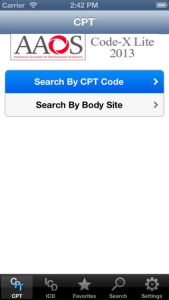 without needing to download an update from the respective application stores (i.e. Apple iTunes and Goole Play). The update sync button is found under the Settings option of the application.
Code-X Lite was originally developed in 1999 for the Palm OS, the most popular mobile platform at that time. Later, versions of the app for the Microsoft PocketPC, Microsoft Windows CE, Microsoft Windows Mobile, and RIM Blackberry OS were also developed when those platforms were in wide use and other platforms fell out of favor. After thirteen years, the latest version of the application runs on iOS and Android. Who knows what platform X-Lite will support next.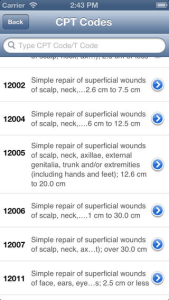 X-Lite 2013 is available only to paid subscribers of AAOS' Orthopaedic Code-X 2013 software which runs on Microsoft Windows and Apple Mac using the Adobe AIR development environment. CAI also developed this application for AAOS.